Important question for designers, artists, and creatives looking to book their first PAID mural project…

If there was a simple, step-by-step breakdown of how to get paid to paint murals without the overwhelm of how to choose the right supplies or how to move your art onto the wall…
not to mention finding clients or a wall to even paint on...
Would you *finally* feel confident enough to add murals to your portfolio of money-making projects?
If you're tired of seeing murals on Instagram and thinking you could paint one just as good (if not better!)...

Or you're simply ready to STOP holding yourself back and START sharing your work in a really big way…
I'm going to show you step-by-step how to take your art from an idea on your iPad to a masterpiece mural that your clients love … not to mention are happy to pay you for.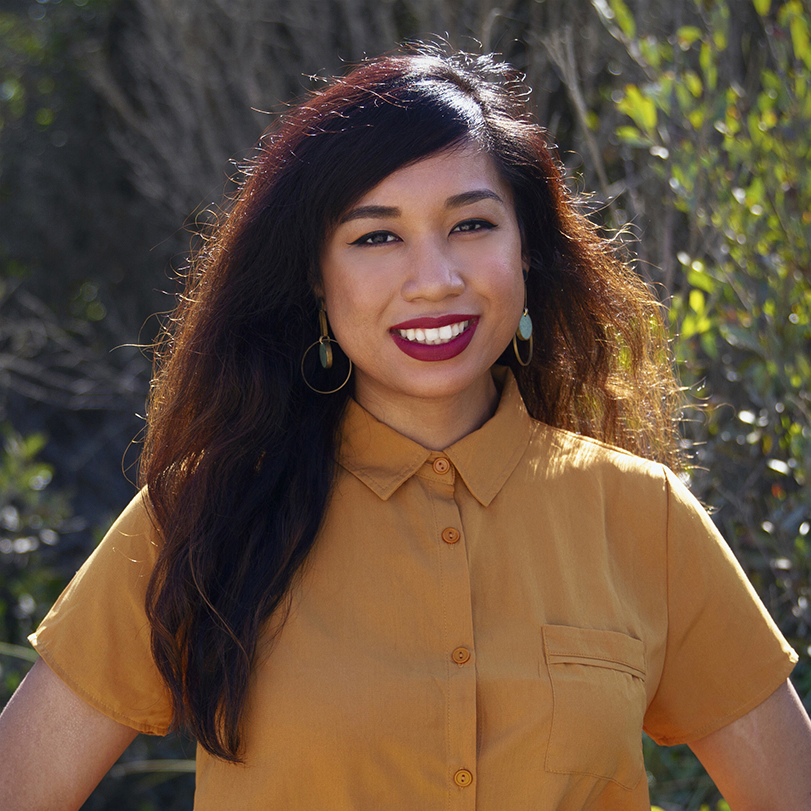 "This class demystified the whole mural process!"
I had done a lot of YouTube research on murals, but I knew there was more I needed to learn to be fully comfortable charging for a mural project. I had taken Lauren's other courses so I knew this one would be really thorough and easy to understand–and I was right! It was super detailed and demystified the whole mural process step by step. Once you see it laid out it's actually very straightforward. After taking this class, I booked my first paid public art piece! It was so exciting to take a step back at the end and see my art on such a large scale.

Illustrator and Designer
Painting murals doesn't have to be scary.
I still remember how I felt when I decided I wanted to paint murals.
I saw other artists painting them, and I felt so inspired to do it myself…but I was totally intimidated.
Even though I already had a successful creative career, there was something about MURALS that felt so…
BIG.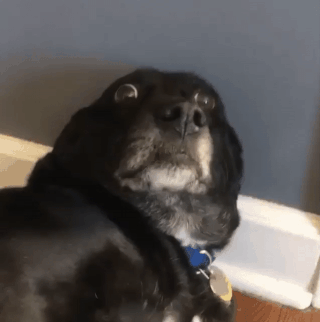 via GIPHY
I kept telling myself I needed to know all the steps from start to finish … and THEN I could start.
(Hint: this is absolutely NOT the way to go about it)
I was afraid of messing up, using the wrong materials, or not being able to translate my desktop-size art to a large scale.
The idea of painting on a wall felt intimidating because it's so PERMANENT.
What if I messed up?
I was afraid no one would trust me to paint a mural because of my lack of specific experience (even though I had proven creative skills).
Deep down, I had a secret that was hard to admit even to myself.
If I tried, and failed, then everyone would finally see: I just wasn't good enough.
I let all of these fears and "somedays" stop me for a long, long time.
Meanwhile, I watched other artists put themselves out there and do what I wanted to do…
Until I decided to just jump in, and figure it out as I went along ¯\_(ツ)_/¯
Here's what I wish I had known, that I'll share with you right now…
With all of the time, effort, and commitment you've put into growing your artistic skills…
You're MORE THAN CAPABLE of sharing them with the world in a BIG way … and getting paid accordingly.
And it doesn't have to be as hard as you think.
How do I know?
Once I got over my fear of murals, things took off quickly.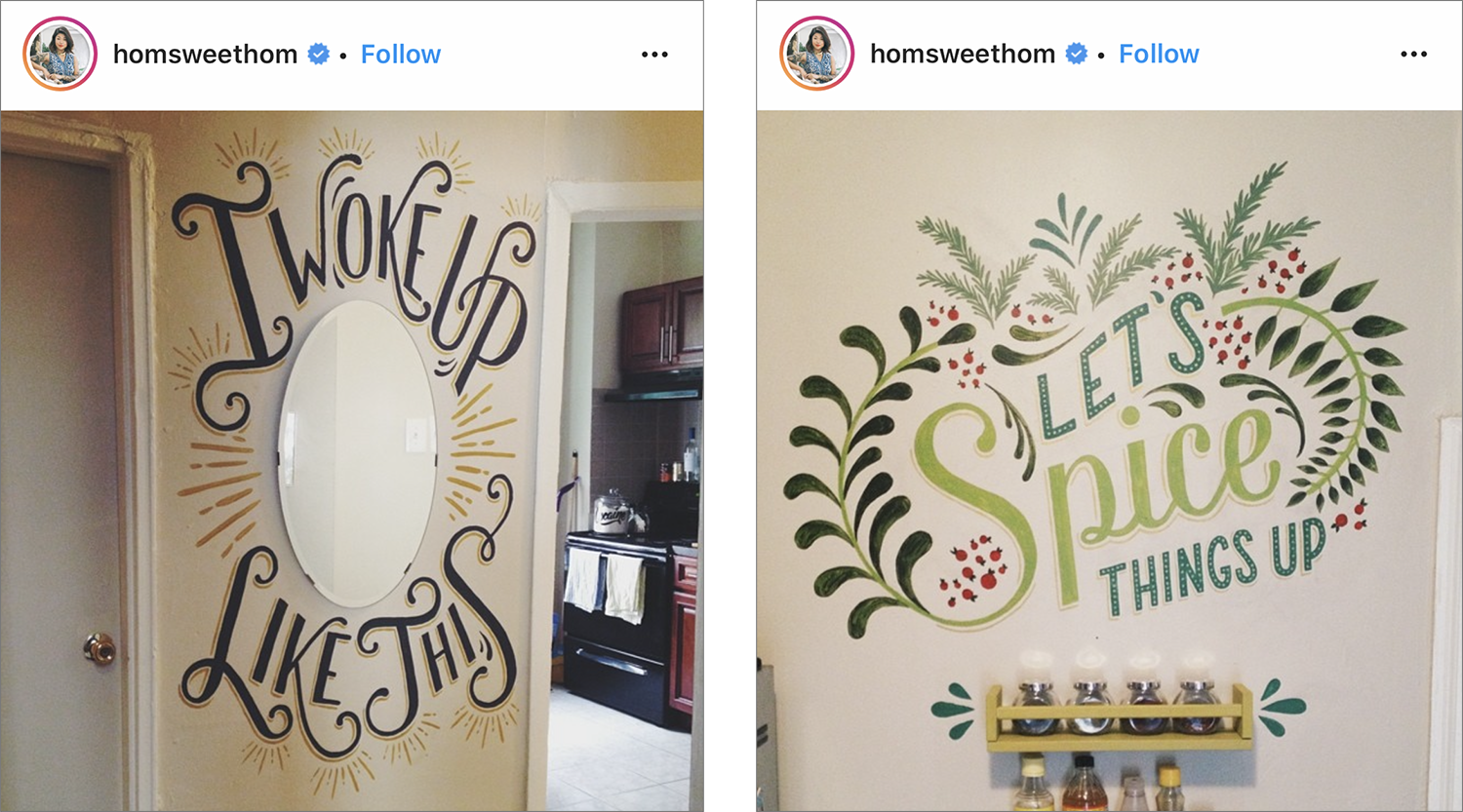 I practiced in my own home, and then I started posting my work on Instagram.
As my following grew, so did the attention my work was receiving. Eventually, Skillshare asked me to paint one for their offices, which was a HUGE win for my confidence.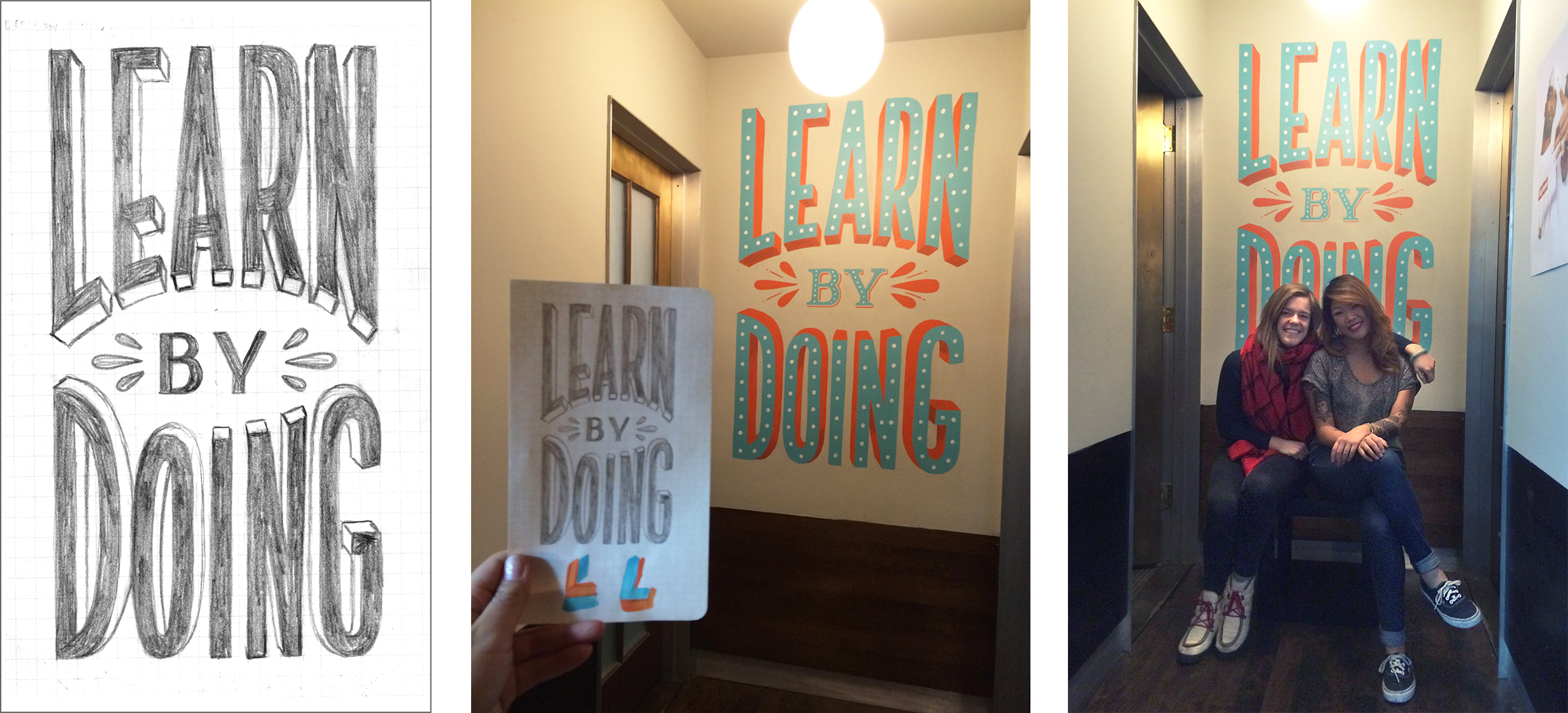 Then, as I traveled around the world in 2016, I kept posting on Instagram offering to paint murals wherever I was...and people started letting (and paying) me. The more I painted, the more opportunities came my way.
Now, murals are an important part of my portfolio and a solid stream of income for my business!
I've painted murals for small businesses like hostels, beauty salons, and grocery stores...
...and I've also painted murals for big commercial clients like Google and Refinery29.
Murals are in demand from all types of clients and have allowed me to get my art out there in a highly satisfying and highly visible way.
And you know what?
I TRULY BELIEVE THIS IS POSSIBLE FOR OTHER ARTISTS, TOO.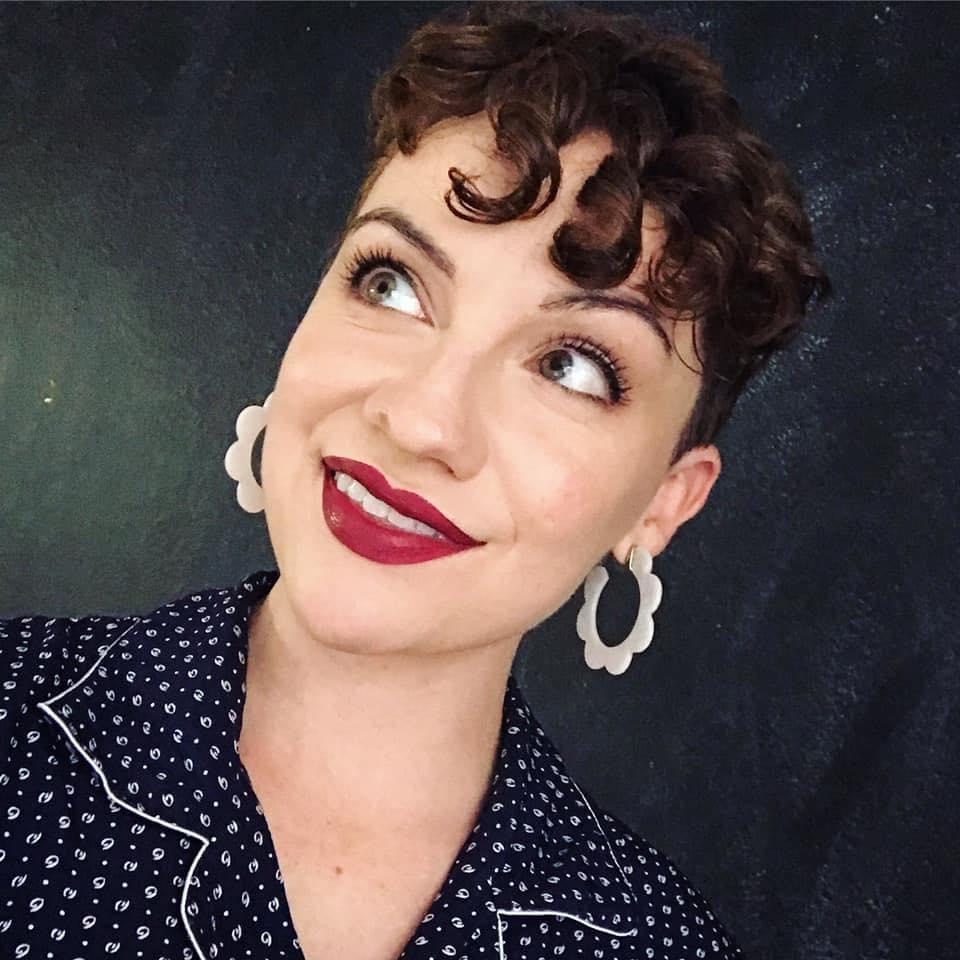 "This course is 100% a worthwhile investment."
Before signing up for Mural Painting for Designers, painting a mural felt out of my reach because I had no experience or mentor in that arena. I've painted two murals since taking this course, one in my home and another at my 9-5 job's office! If you're someone who's always admired large-scale work but maybe feels too small or green to see yourself doing it, this course is 100% a worthwhile investment.
Lettering Artist
Getting paid to paint murals is easier than ever (thanks internet!).
And the even better news is that by following a specific, step-by-step process you'll be able to:
Confidently assess what you need to get started, and build your arsenal of mural-making supplies (hint: I'll bet you probably already have most of these!)
Understand exactly how to structure your design so that it translates from paper to the wall with no loss of your creative genius
Possess clarity that leads to good mural ideas and even better: paying clients
Confidently find walls and opportunities share your art
Develop a new creative skill and add a new income stream to your business
YES these outcomes are totally within your reach for you and your business (whether you're a full-time artist or side-hustling creative).
And even if you don't THINK you want to sell your murals yet, just wait. All it takes is sharing one mural online for the clients to come knocking… and you need to know what to do then, am I right?
Don't worry, I'm breaking down my entire process and giving you my specific, step-by-step approach for painting & pricing murals like a pro.
SO WHO AM I?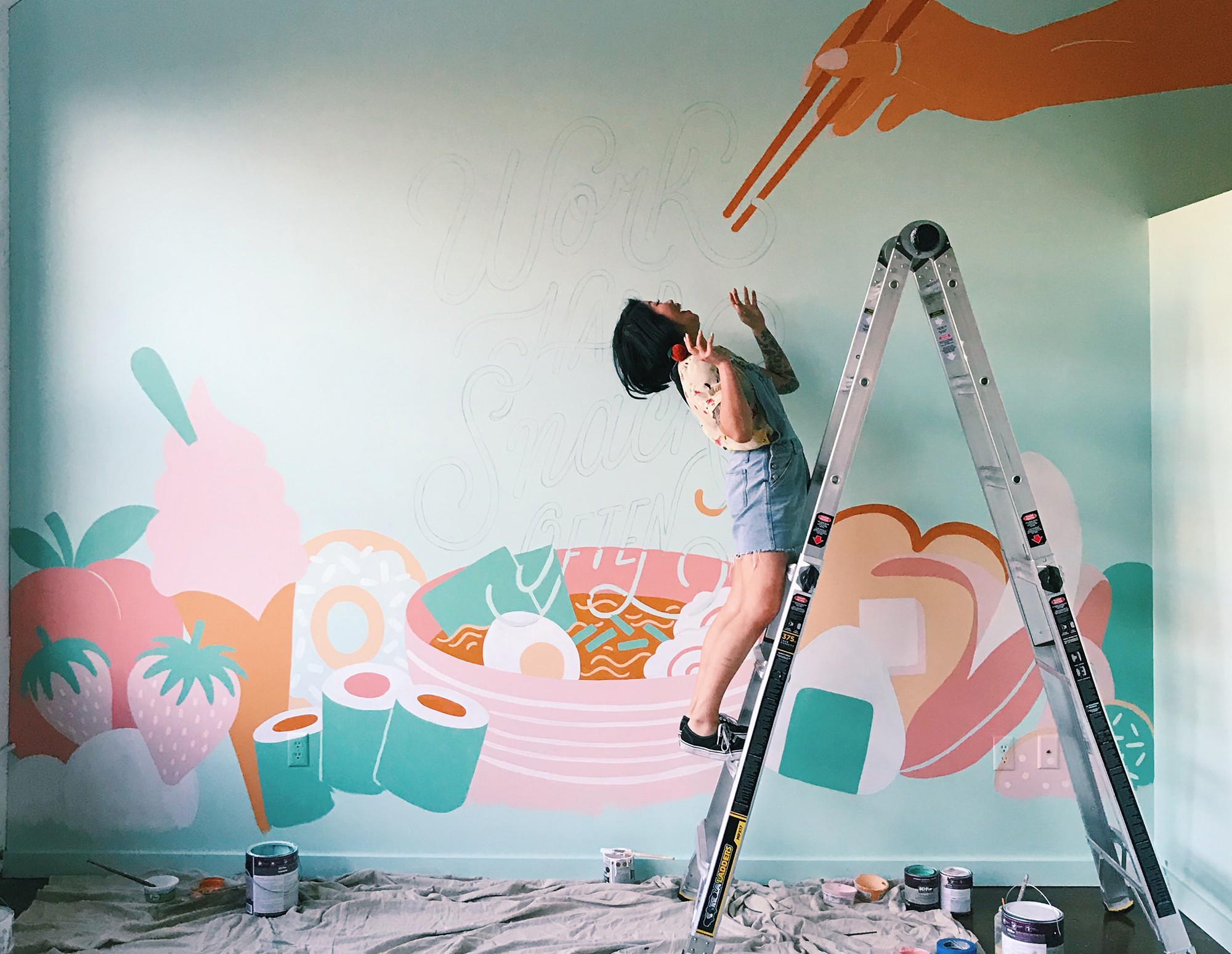 I'm Lauren Hom, a designer, letterer, and muralist with a knack for marketing. I've been an artist for as long as I can remember, and I discovered lettering when I was studying advertising in college. I loved it, and it quickly became a passion project.
After I landed -- and subsequently burnt out at -- my dream job at an advertising firm, I knew that I had to figure something else out. It took a rock-bottom moment that included eating raw cheese ravioli on my kitchen floor at three in the morning for me to decide that I was going to make a living with my art - no matter what it took.
Since that day, I've created a wildly successful creative company creating lettering and murals for clients like Google, MailChimp, and Target while also teaching creatives like you how to get paid for their artistic passions.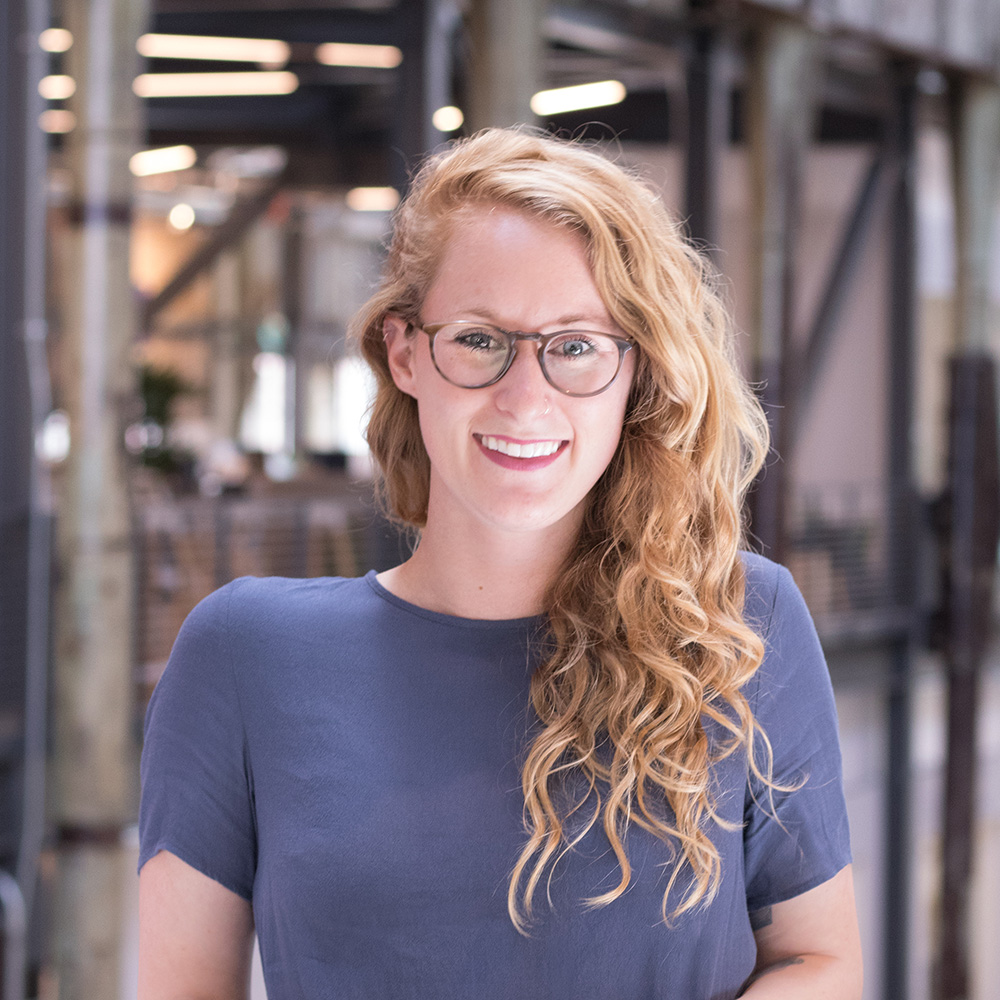 "I feel so much more confident to tackle any project that comes my way because of working with Lauren."
Even though I had designed, painted, and even art directed some murals before working with Lauren, honestly, I was winging it! Having an expert give me insights into her process was invaluable. I wish I had learned her tips and tools years ago! Having the information that Lauren teaches was helpful for me and it would be totally invaluable to someone just starting out -- trust me, you don't want to be fiddling with a projector on a deadline.

Lettering Artist & Brand Designer
So if you've ever wondered…
"How do I even get started with murals?"
"Where do I find a wall?"
"How do I translate my art from the screen to real life?"
Introducing...
MURAL PAINTING FOR DESIGNERS!

Take steps towards booking your first paid mural project (even if you've never created a mural before).
I packed my 5 years of commercial mural experience into an online course designed to walk you step by step through the mural ideation, creation, and marketing process so you can speed up your implementation, get paid, and get your art out where it needs to be.
This is NOT just for professional artists…
This is for anyone who wants to learn how to express their art through murals (and get paid to do it).
Lesson 1: Introduction
Who I am, my experience with murals, and why you should listen to me ;)
Lesson 2: What You'll Learn
This is where I walk you through exactly what you'll learn and what you can expect from this course.
Lesson 3: Supplies
I'll share all the supplies you could possibly need throughout the course so you're set up for success. Most of these you probably already have in your arsenal!
Lesson 4: Planning Your Design
We'll talk about all the things to consider before you even begin designing your mural. Understanding your wall and being strategic with your design beforehand make the process so much easier!
Lesson 5: Picking Paints
I'll teach you exactly how to pick paint colors and quantities for your mural, so you know exactly what you need to not run out in the middle of your project!
Lesson 6: Preparing the Wall
Once you have your design and supplies, it's time to prep the wall and area for painting your mural. I'll show you my exact process for making sure the wall is mural-ready.
Lesson 7: Transferring to the Wall
I'll walk you through 3 different techniques for transferring your design to the wall and the pros and cons of each technique.
Lesson 8: Painting the Mural
I'll teach you how to paint your mural in a clean and efficient way, plus share my best painting techniques and tips. You'll get to see me paint an entire mural from start to finish!
Lesson 9: Money Makin' Murals
Everything you need to know about monetizing your new skill! We'll cover the ways murals are being used commercially, what factors go into pricing murals, and how to manage mural projects with clients.
My agent and I collaborated on this lesson! He has 7 years of experience working in the commercial art and advertising industry, and the info we packed into this lesson is GOLD. Whether you're pricing out a $1,000 mural or a $10,000 mural, we've got you covered with multiple resources for different skill levels and project types.
Lesson 10: Marketing Your Murals
Ready to start booking your first paid mural projects? In this section, I'll walk you through how to build your mural portfolio, market your services, and plant the seeds for future opportunities.
Lesson 11: Conclusion
We'll wrap it all up with lessons learned and some extra encouragement! You've got this.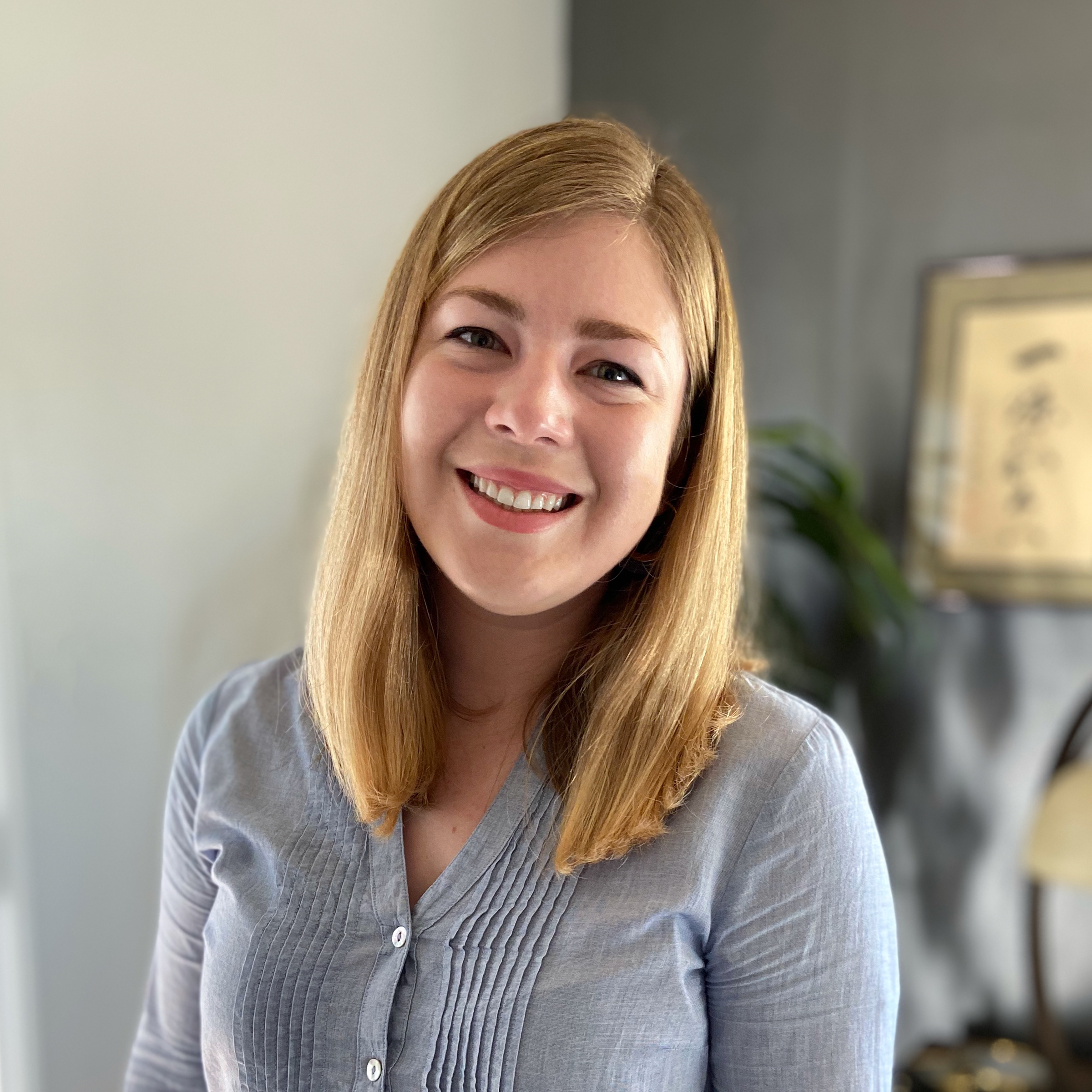 "I've been able to use what I learned from Lauren to design large-scale pieces for clients, and I'm no longer too intimidated to take on mural work."
Painting a mural seemed like such a daunting task to me. Being able to see firsthand how Lauren works, from her process to materials used to how she works with her clients, was an incredible experience. It made me realize that muraling is not that far of a jump from a sketchbook to a wall after all! Lauren is an amazing teacher and extremely generous with sharing her knowledge and resources. No matter your skill level or experience, you will be able to learn something new and apply it to your own art.

Art Director & Designer
Mural Painting for Designers is perfect for you if:
You're a designer who is new to murals and you want to make sure you absolutely NAIL it on your first try
You've tried one or two murals and had some success, but you know you could do it a lot faster and better with a proven, repeatable process
You already have a freelance creative or artistic business and you're looking to add a new stream of income to your biz
You feel overwhelmed by the process of creating murals and you want an expert to guide you step-by-step so you're sure you're not missing anything
You want to be well-known and well-respected for your art, and get it out there - and get paid! - in a MUCH bigger way
You want to bust out of a creative rut and start feeling inspired and motivated by pursuing a new skill
You're ready to spend a weekend mastering a new craft that will feed both your creative genius and your wallet (yes, you can do this course in a few days if you want to!)
Frequently Asked Questions
So, if you're ready to get your work seen in a much bigger way…
By designing, implementing, and yes, selling your first mural…
Mural Painting for Designers was created just for you.
No matter where you're at on your creative journey, the time you invest in learning how to create and market murals will reinvest itself back in your career ten-fold!
I truly believe that everyone who has a desire can be known and get paid for their art, and the world needs you to put yourself out there in a BIG way. Pun totally intended.
It would be an honor to support you 😊